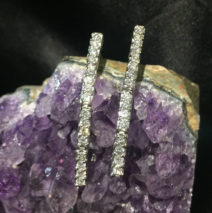 April is Diamond Month! Lucky April has diamonds as their birthstone.
The diamond is a symbol of deep, everlasting love and the hardest substances known on earth – no wonder that "a diamond is forever".
Diamonds were first recorded in India over 3,000 years ago. They were believed to be the fragments of falling stars.
They have been called "the King of Crystals". They are the ultimate symbol of love and signify unity, trust and fidelity.
Enjoy our diamond gallery.  We have lots more in the store and can also do custom work.
Let us help you find the perfect fit.
Read More