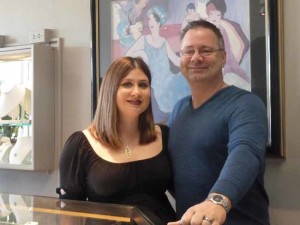 When Rob Chase, owner of Gold'N'Time Jewelers, starts to talk about his customers you can feel the great passion and respect he feels for every person who passes through the doors of his jewelry store.
"Actually, I don't even like the word "customer'", he says, "the relationship is much more than that. I truly consider my customers to be my friends. We work together to find the perfect piece of jewelry – that suits their budget, their occasion and their tastes.  It's a very personal decision and often includes life transitions, such as engagements and weddings.  I feel very honored to be part of that process."
Rob has owned Gold'N'Time Jewelers since 1998, buying the business from long time jeweler Bill Humphries. Still in its original location in The Plaza North Shopping Center, Gold'N'Time has served Petaluma for several generations. Unlike the traditional image of a jewelry store as being unaffordably expensive, Rob prides himself on having a wide range of price points for every budget.
"I love to work with people", Rob says, "I like to help people find out what's right for them which is why we carry everything from everyday jewelry to watches and diamonds.  I want my customers to be able to find exactly what they like at a price that works for them"
Rob is also honest with his customers when he feels that a jewelry purchase isn't for them.  As one customer wrote in Yelp:
"I contacted Rob Chase to inquire about buying my husband a piece of jewelry for his birthday, and Rob honestly felt I would be safer buying him a new golf club bag than a piece of jewelry.  Isn't it refreshing to have someone care that much about someone else other than a purchase."
Gold'N'Time also carries sterling silver pieces, high end costume jewelry, and jewelry boxes. They do appraisals. consignment, and layaways.
Gold'N'Time Jewelers is located at 283 N. McDowell Blvd (between Kmart and CVS). Phone: (707) 778-1422