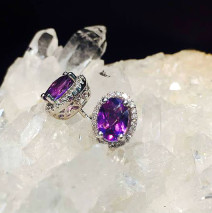 Amethyst is February's beautiful birthstone and is a violet variety of quartz. The shade of the stone can range from a light pinkish violet to a deep purple.
As a powerful and protective stone, the amethyst is believed to relieve irritability and grief by bringing calmness and peace to the wearer.  The ancient Greeks used to decorate their drinking vessels with amethysts as the stone was also believed to protect against drunkenness and promote sobriety.
Amethysts are also known to help with psychic intuitiveness and and spiritual awareness.
Read More